FOLLOW US:







RACO'S Upgraded Alarmware™, Version 1.57, Improves Ease of Data Collection and Analysis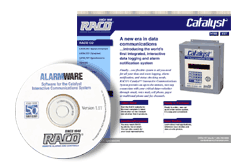 Emeryville, Calif., January 3, 2002 - RACO Manufacturing and Engineering Company of Emeryville, California has introduced an upgrade of its Alarmware™ Software, Version 1.57, a data collection and analysis tool for its Catalyst™ remote data logging and alarm notification system. Upgraded to provide user interface enhancements, such as improved navigation and help functions, Alarmware enables users to quickly and easily set up all monitoring, reporting and control functions of the Catalyst. A key new feature provides the user with the ability to designate any text report, generated remotely or locally, to be delivered by fax. Alarmware is also used to program free Catalyst upgrades. It is available for Catalyst users as a free download from a CD or from the RACO website.
Alarmware allows the convenient configuration of Catalyst systems, both remotely and locally, as well as the ability to replicate programming for multiple additional Catalyst systems. With the upgrade, text reports include an optional summary page listing the relevant reporting parameters and diagnostic counts on a cumulative and 24-hour basis. Users can select which reports are delivered to any specific destination. Data logging enhancements include a reduction of the minimum data sampling interval from 60 to 10 seconds, as well as several new options for scheduling, filtering, sorting, and reporting.
Catalyst is the world's first HMI, wireless, remote data logging and alarm notification system. It allows real time, 2-way communications with critical data via phone, fax, pager, or cell phone, and can also report to SCADA system hosts. Catalyst can instantly download detailed status reports or contact up to 96 user destinations with alarm or status information. Catalyst interfaces with any PLC or device via Modicon's Modbus protocol, using only RS232 communications.

About RACO
For over 50 years, RACO Manufacturing and Engineering Co., Inc. has provide municipalities, industry, and government with a wide variety of high-quality, reliable remote communications systems, and RTU's for data logging, alarm autodialing, remote monitoring, reporting, and control. Applications range from only a single point to a full multi-station, multi-point PLC, DCS, or SCADA network.
For more information contact RACO at 1400 62nd St., Emeryville, CA 94608; Ph: 800-722-6999; Fax: 510-658-3153; email: sales@racoman.com, or visit us at: www.racoman.com.
Copyright © 1998- RACO. All rights reserved. User Agreement and Privacy Policy statements.